At Sunnyside Cremation and Funeral in Irvine, CA, we understand the significance of upholding cultural traditions while offering support during times of grief. Our Chinese funeral and mortuary services honor traditional customs while offering compassionate care to families in the Irvine area. We stand committed to honoring and celebrating your loved one's remarkable life with each funeral we conduct here in the Irvine area. Call us at (714) 932-8091.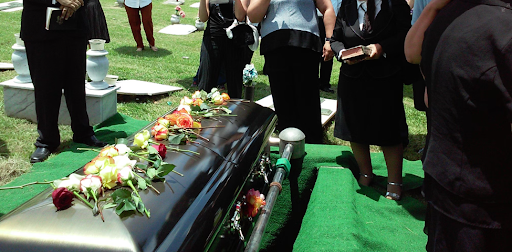 Guidance and Support Through Chinese Funeral Customs in Irvine, CA 
Chinese funeral customs hold great tradition and significance, memorializing those who have passed while providing comfort to grieving families. At Sunnyside Cremation and Funeral of Irvine, CA we understand the significance of honoring these traditions when saying goodbye. At Sunnyside Cremation and Funeral, our Chinese funeral services aim to pay a fitting tribute while giving families comfort during this difficult time.
With great respect for tradition, our highly trained and experienced team will guide you through every stage of the funeral process with care and sensitivity. From initial arrangements to final ceremonies, each detail will be treated with care and consideration by our compassionate staff who possess an intimate knowledge of Chinese funeral traditions to ensure an emotionally charged service that truly commemorates your loved one's unique journey.
At your ceremony, our squad is here to assist with everything traditional, such as setting up ancestral rituals, lighting incense, and organizing ceremonial offerings. In addition, we can assist in selecting clothes, tunes, and decor that make the atmosphere solemn and honorable. We recognize how essential it is to pay tribute with dignity by respecting the cultures and beliefs of those we're honoring, so our farewell services strive hard to be respectfully and culturally fitting.
Compassionate Assistance and Dignified Services: Sunnyside Cremation and Funeral, Irvine, CA 
Sunnyside Cremation and Funeral takes great pride in creating memorable Chinese funeral services in Irvine, CA that reflect each person's individual life and principles. Our crew works collaboratively with you to understand your wishes and ensure every element of the funeral service meets them perfectly.
No matter whether you want something traditional or modern, our crew of experienced funeral experts is always there to provide guidance and assist with every aspect of planning an unforgettable service. From choosing funeral flowers, music, readings and any other details you desire – they all add up to an experience your guests won't forget!
After the funeral, we can also help arrange other details. When someone passes on, making arrangements can be an enormous strain; our team's here to make things easier by setting up burial or cremation services and handling paperwork on your behalf. Let us take some of that weight off your shoulders by handling services for both burial or cremation and all those paperwork details for you.
Professional Chinese Mortuary Services in Irvine, CA: A Peaceful Farewell at Sunnyside Cremation and Funeral
Sunnyside Cremation and Funeral provides compassionate yet professional Chinese mortuary services in Irvine, CA. We understand the significance of treating final goodbyes with respect so your loved one receives the dignified farewell they deserve.
Our world-class modern mortuary offers loved ones a peaceful space to pay their last respects in dignity and with respect for those we've lost. Our skilled embalmers and morticians have been trained in Chinese mortuary customs so as to carry out every step-in accordance with tradition.
Caring Support and Resources for Grieving Families: Sunnyside Cremation and Funeral, Irvine, CA
At Chinese Mortuaries of Irvine, CA, we offer tailored funeral planning. This includes preparation, viewing, and casket selection. Our staff stands ready with expertise and support as you navigate this often daunting journey. We fully appreciate how difficult things may be right now; that's why we are always there with an ear to listen and a helping hand ready.
Additionally, our crew can assist in transporting your loved one within Irvine or to another place with complete professionalism and care. All necessary paperwork and permits will be handled prior to transportation.
Tailored Chinese Funeral Services and Mortuary Assistance in Irvine, CA: Sunnyside Cremation and Funeral
Our dedication to offering exceptional Chinese funeral services extends far beyond physical arrangements; it goes much deeper. We understand the difficulty and challenge associated with grieving is personal – that's why our crew of experts is here for you, to offer guidance, support, therapy sessions, and additional resources that can make grieving a less overwhelming journey.
Sunnyside Cremation and Funeral recognizes the timeless significance of Chinese funeral traditions in Irvine, CA, while providing compassionate support during a difficult time. Through our Chinese funeral and mortuary services in Irvine, CA, we aim to create an eventful farewell that honors the life lived while giving solace to grieving families.
Sunnyside's team is always at hand to guide you through each stage, honoring traditions while tailoring services specifically to you and your family's individual needs. At Sunnyside, we take great pride in celebrating each individual's individuality and working closely with families to meet individual desires and ensure their specific requirements are fulfilled.
Contact Sunnyside Cremation and Funeral for Professional Chinese Funeral and Mortuary Services in Irvine, CA
Sunnyside Cremation and Funeral offers professional Chinese funeral services as well as mortuary assistance so you can say farewell in an honorable and meaningful way. Our goal is to create an environment that honors your loved one while respecting personal beliefs.
If you live near Irvine, CA and require Chinese funeral or mortuary services, contact Sunnyside Cremation and Funeral at [phone number]. Our compassionate staff stands ready to offer their expertise during these trying times.
Chinese Funeral and Mortuary FAQs
Is cremation a common practice in traditional Chinese funeral services?
Yes, while traditional Chinese funeral customs often involve burial, many Chinese communities in Irvine, CA have embraced cremation as a part of the
cremation process
. Cremation aligns with some traditional beliefs, such as the return of the body's elements to nature. Chinese mortuaries in Irvine often offer comprehensive cremation services, respecting cultural customs and providing families with options for honoring their loved ones.
Are there specific grief support services tailored for Chinese families in Irvine, CA? 
Yes, several local organizations and funeral homes in Irvine recognize the importance of culturally sensitive grief resources for the Chinese community. These resources may include counseling services, support groups, and materials tailored to address the unique needs and cultural nuances of grieving Chinese families. 
What veterans benefits are available for Chinese-American veterans in Irvine, CA?
Chinese-American veterans in Irvine, CA have access to various veterans benefits, including burial allowances, military honors, and support with funeral arrangements. Some organizations and funeral homes specialize in assisting Chinese-American veterans and their families, ensuring they receive the recognition and benefits they deserve for their service.