Through their ownership of Sunnyside Mortuary, Charles and Nina are able to serve people of multiple backgrounds and beliefs in Orange County, CA, and its neighboring regions. Thanks to the help of their devoted staff, the two have provided burial or cremation services to more than 3,000 families with compassionate attention, dedication, and the aim of commemorating lives with a positive influence and form of healing. This family-owned institution desires to keep providing its services in the years to come.  
To pay respect to tradition is more than a service to us—it's our duty. Let us assist you through this challenging time with the tact, appreciation, and know-how that Sunnyside Mortuary is recognized for. Contact us at (714) 932-8091 or (714) 521-1010 now to find out how we can aid you in putting together a powerful and appropriate goodbye for your cherished departed.
Serving the Diverse Community of Orange County, CA with Burial and Cremation Services
Charles and Nina, proprietors of Sunnyside Mortuary, have been blessed to serve families of all backgrounds and beliefs in Orange County, CA, and its nearby areas. As a family-managed mortuary, they wish to continue this assistance for numerous upcoming generations. Honoring the lives of many through advantageous and restorative practices, they expect to remain a family-run firm offering service to many generations and accommodating all sorts of customs, from direct cremation to comprehensive services, including visits and internment. We understand that each family requires various traditions and wishes.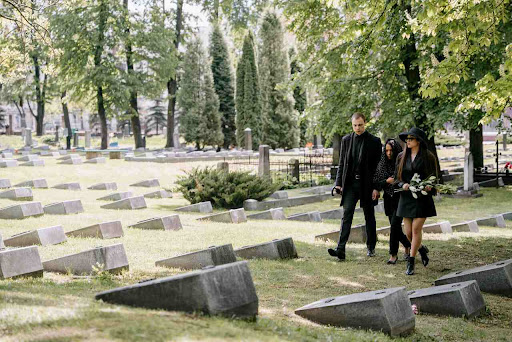 Keeping funeral expenses way below the nation-and-California-wide average is the commitment of Sunnyside Mortuary, without holding back on impeccable service and care. The cremation arrangements are represented by the Farewell (direct) Cremation, and the burial packages begin with the Cherished Burial. Funeral services can be customized to best fit your wishes, from burial to cremation. You don't have to neglect a meaningful experience by selecting cremation; it may even open up new possibilities for arranging the funeral. By opting for cremation, people can explore various tributes that represent the deceased's life without omitting more traditional formats of memorializing a loved one. Cremation also grants families the decision to spread the ashes. This could be done in a cemetery garden or a location that is special to the deceased. Today, cremated remains may even turn into an ocean reef or made into diamonds.       
Discover the Benefits of Pre-Planning for a Funeral in Orange County, CA
Choosing to plan ahead with Sunnyside Mortuary ensures that your last wishes are honored and relieves your family of the burden of decision-making at the time of your passing. We are available to meet with you at your convenience to discuss the myriad of options available for locations, services, and memorials. Envisioning your final arrangements now can also lead to financial benefits.  
Pre-planning for your funeral does not necessitate payment in full right away. Once the plan is complete, the funeral director will store the details until they're needed. If you pay at the same time as you make your plans, you will have the current prices locked in. We offer a few affordable payment and investment options. We'll be glad to go over these plans with you and assist you in choosing the most suitable one.
Understanding Your Responsibilities When Death Occurs
In the instance of the death of a family member, there will be crucial tasks that need to be done and decisions that will have to be made during a challenging period. Understanding what is expected from you and all the duties that come with it can be intimidating. Know that at Sunnyside Mortuary, we are here to guide you and help you with any issues you may have 24 hours a day, 365 days a year. 
Our vast array of products includes caskets, blossoms, adornments, and urns, in addition to availability for facility rental at both offices located in Garden Grove (12301 Magnolia Street) & Buena Park (7651 Commonwealth Avenue).           
Frequently Asked Questions:
What is the difference between burial and cremation?
Burial involves placing the deceased in a casket and interring it in the ground, allowing the deceased to naturally decompose. Cremation, on the other hand, uses high temperatures to reduce the deceased into ashes.
Can I personalize the burial or cremation service?
Yes, you can personalize both burial and cremation services to reflect the wishes and preferences of the deceased and their family. Personalization can include the choice of casket or urn, the location and style of the service, music, readings, and even the inclusion of personal mementos. Many funeral homes offer options for customization to create a meaningful and unique tribute. 
Can I pre-plan my own burial or cremation?
Yes, you can pre-plan your own burial or cremation. Many individuals make these arrangements in advance to ensure their wishes are followed and ease the burden on their loved ones during a difficult time. Pre-planning allows you to specify your preferences for the type of service, burial plot or cremation urn, and other details, and it can be done with the assistance of a funeral director or through advanced planning services offered by funeral homes.